Our trusted partners are specifically and carefully chosen based on what they can offer our early stage entrepreneurs…whether it is their experience, services, products, resources, lessons learned, or industry advice. These relationships between our partners and startups create a community that fosters collaboration.
If you would like more info about becoming a partner, please contact us at: hello@steelbridgelabs.com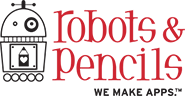 Robots and Pencils is a mobile strategy and app development firm known for its top-ranking consumer apps, transformative enterprise apps and world-first education platforms. Started in 2009, Robots and Pencils has created more than 250 apps used by over 77
million people worldwide, and in 2014 was named the 34th fastest growing technology company in North America by Deloitte.

RAXO is an award – winning collective design studio focusing
on HUMAN INTERACTION and DIGITAL INNOVATION.
We create campaigns that move hearts because we design with
LOVE.
Neo Technology is the creator of Neo4j, world's leading graph database. Neo4j is a highly scalable native graph database that leverages data relationships as first-class entities to help companies build intelligent applications that meet today's evolving connected data challenges including fraud detection, real-time recommendations, master data management, network security and IT operations.
&nbsp